Introduction
Today there are hundreds of new IoT devices scattered throughout our homes. They connect our phones to the network, perform duties using simple voice commands, secure our homes using door locks and cameras, and the list goes on. As a matter of fact, according to Statista data, the number of connected IoT devices will hit 50 billion worldwide by 2030.
The main goal of these devices is to make our lives easier, healthier, and more secure. However, we are all too familiar with the scenario after purchasing a new IoT device – where they do not communicate with our existing network – the opposite of making our lives easier. It's very frustrating because we assume these so-called smart devices should be smart enough to connect to our existing, well-operating network. Instead, to get the device to communicate with our network – apps need to be downloaded, complicated setup is required, and unexpected effort is needed.
Manufacturers realize this consumer challenge and know that this will only grow as more IoT devices enter our homes. They initially set the goal to mitigate the issue by manufacturing IoT devices with interoperability. But they sometimes fall short because many of the IoT devices speak with a different protocol or language. Some use Wi-Fi, while others use Bluetooth® or Zigbee®. And, of course, there are others where manufacturers use their proprietary protocol.
Both standards bodies and manufacturers alike recognize the importance of interoperability. One, it will help drive more consumer adoption. Two, it will help enable a more cohesive approach to IoT device design. To further assist in this device design, Qorvo IoT engineers developed a highly integrated one-chip solution that provides both multi-protocol support (interoperability) of Zigbee, Thread, Bluetooth, Bluetooth Low Energy (BLE), Wi-Fi, and the new Matter standards – as well as adding ConcurrentConnect™ technology.
ConcurrentConnect™ technology enables faster communications, increases home network capacity and scalability, and allows manufacturers to future-proof connected devices such as lighting and smart home sensors. The technology helps eliminate barriers to growth of the smart home by enabling simultaneous operation of multiple smart devices, regardless of which major wireless standard they use.
The video titled "Qorvo Makes IoT Easy with ConcurrentConnect Technology" provides practical tips about how ConcurrentConnect technology helps to overcome the IoT design challenges so designers can offer future-proofed connected devices that enable faster IoT device communications, increased network capacity, and improved scalability in the IoT connected home.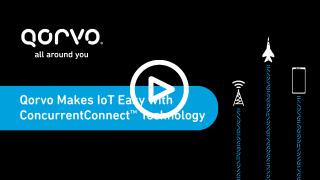 You will learn about:
ConcurrentConnect™ Technology
How IoT devices communicate
Multi-protocol support

On May 11, 2021, The Connectivity Standards Alliance (CSA) announced Matter – the interoperable, secure connectivity standard for the future of the smart home, which was formerly known as Project Connected Home over IP (CHIP). Matter is the unified IP-based connectivity protocol built on proven technologies, helping connect and build reliable, secure IoT ecosystems.
How ConcurrentConnect Technology Works
Today's IoT communication devices use some form of dynamic multi-protocol support. This is an on-chip function that uses time division multiplexing to communicate with network devices using multiple protocols.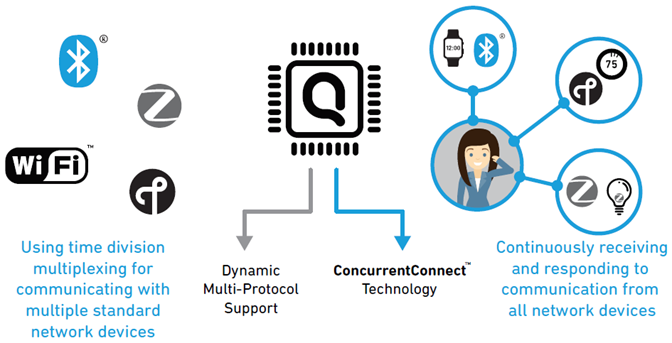 Qorvo, however, takes dynamic multi-protocol support a step further. ConcurrentConnect technology receives and responds to all multiple protocol devices fluently and continuously. By doing so, it reduces communication latency, further increasing network capacity and quality of service.
A Real-World Example
Let's look at a real network situation combining Zigbee and BLE devices using an IoT non-Qorvo node. When the non-Qorvo node connects without ConcurrentConnect technology, the node switches back-and-forth between these two standards without the ability to communicate between one standard at a time. This switching back-and-forth causes inefficiencies, dropped communications, and latency – because only one standard can communicate while the other waits for an opening to begin communication. Therefore, in a set timeframe communication between these two standards, the nodes are challenged.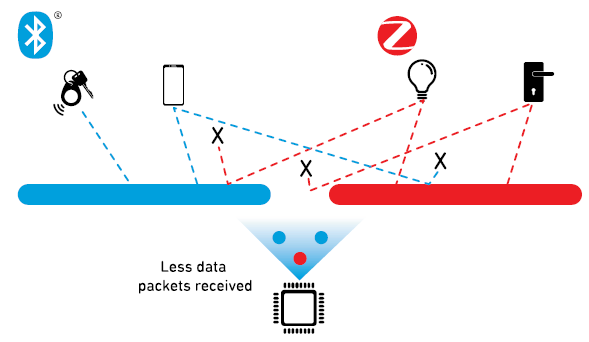 However, using a node with a Qorvo IoT device with ConcurrentConnect technology, the communications between the Bluetooth and Zigbee devices are instantaneous. When using this single-chip solution with ConcurrentConnect support, the communication is managed from multiple standards and devices at the same time and without delay.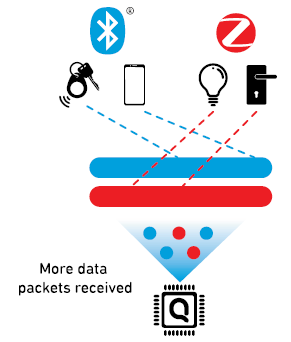 As you can see, including ConcurrentConnect technology with your IoT communication solution will help your smart home customers achieve fewer dropped communications across a multitude of protocol standards. This highly integrated solution is found inside a small-packaged part, such as those found in our portfolio of communications controllers, including the QPG6100, QPG7015M, QPG6095, and QPG6095J.
Ultimately, ConcurrentConnect technology eliminates a manufacturer's need to choose in advance which technology — Zigbee, Thread or BLE — to incorporate into their devices. They also reduce part count, which lowers cost, simplifies development and support, and enables smaller, more appealing form factors for consumers.
For more information on this topic, we encourage you to review the short tutorial video "Qorvo Makes IoT Easy with ConcurrentConnect Technology" as well as the white paper on "Solving the Challenge of Many Devices with Multiple Standards in the Connected Home."
The Bluetooth® word mark and logos are registered trademarks owned by Bluetooth SIG, Inc. and any use of such marks by Qorvo US, Inc. is under license. Other trademarks and trade names are those of their respective owners.