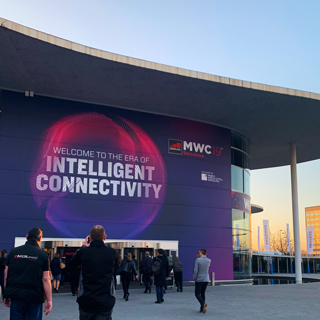 It should come as no surprise that the pending arrival of 5G was THE big story from Mobile World Congress 2019 in Barcelona. Qorvo's Brent Dietz covered his top five takeaways from MWC19, including foldable phones and Sophia the robot — but here's a recap of Qorvo's highlights from the show.

Qorvo's 5G mobile portfolio enters high-volume production
Most people in the industry didn't think 5G would be a reality before 2020, but one overriding message from Barcelona is that 5G is coming faster than anyone actually expected — and we could see 5G handsets in the second half of 2019.
In support of that transition, we announced at MWC 2019 that our portfolio of mobile 5G products has moved into high-volume production, helping leading smartphone manufacturers accelerate the rollout of 5G around the world. Featured products include the highly integrated front-end modules (FEMs) shown below, which support all major baseband chipsets and incorporate all the RF front-end (RFFE) functions required to support new and "refarmed" 5G bands targeted in early deployments.
| Part Number | Description | 5G NR Band Support |
| --- | --- | --- |
| QM78203 | 5G Switched Power Amplifier plus Duplexer (S‑PAD) Module with LNA Receive | Bands n77, n78 and n79 |
| | 5G Power Amplifier Duplexer Module (PAMiD) | Band n41 |
| | Multi-Mode Mid/High Band Switched Power Amplifier plus Duplexer (S-PAD) Module | Bands n41, n3 |
Enabling 5G wireless infrastructure with 100+ million shipped RF devices
5G handsets won't work unless cellular infrastructure is set up to support 5G. Not only have Qorvo infrastructure products been used in dozens of 5G field trials, including the Samsung 5G multiple-input/multiple-output (MIMO) demo at the 2018 Winter Olympics, but we also announced at MWC19 that we've shipped more than 100 million 5G wireless infrastructure components since January 2018.
Our 5G infrastructure portfolio includes solutions for both the receive and transmit RF front end, enabling customers to use beamforming with massive MIMO base stations to achieve higher data capacity, wider coverage, and indoor penetration using sub-6 GHz and millimeter wave frequencies.
We were also featured in MWC press announcements from silicon-on-insulator (SOI) partner GlobalFoundries and 5G GaN partner Gapwaves. Gapwaves' 28 GHz 5G active antenna features a Qorvo integrated FEM and our GaN-on-SiC technology.
Read our 5G infrastructure news >

Integration will be critical for 5G handsets
One mobile industry trend showing no sign of stopping: integration of components amid tight space constraints. Indeed, integration will be even more critical for 5G handsets, as the number of RF components in the phone only continues to grow.
Qorvo's RF Fusion™ products integrate the power amplifier, switch and filter content into a single RFFE module, and we announced at MWC that our newest generation of RF Fusion products had multiple design wins from leading smartphone manufacturers.
The newest generation of RF Fusion leverages Qorvo's advanced BAW and SAW filter technologies to deliver complete coverage in low-band and mid/high-band placements, with our QM77033 and QM77031 modules. The latest design wins also include the QM17001 mid/high-band diplexer and RF8129 envelope-tracking (ET) power management module.
RF Fusion continues to evolve and add functions and features in preparation for the rollout of 5G. The latest generations add support for new and refarmed 5G bands and EN-DC operation, in a range of scalable options. You can view our full catalog of RF Fusion solutions for 4G/5G in our latest brochure.
Honored for helping to drive the global adoption of 5G
Among the many highlights during MWC, Qorvo's Paul Cooper was recognized by the Global TD-LTE Initiative (GTI) as a 2019 Honorary Award recipient at its GTI Night celebration.
Paul, who is the director of carrier liaison and standards at Qorvo, has worked for several years to further the cause of the GTI 2.0 mission to establish a 5G RF front-end sub-6 GHz ecosystem, supporting member carriers in the U.S., China and Europe. The Qorvo Carrier Program team coordinated test and marketing staff to provide data in support of 3GPP New Radio (NR) standards that will drive global adoption of 5G. This award was the culmination of the hard work put in by Qorvo's 3GPP RAN4 standards team and engineering teams providing lab test data.
We're proud to be among a team of experts from multiple companies, including Qorvo, Skyworks, Sprint, Qualcomm and LG, that are helping our customers' customers — the wireless carriers — address the RF challenges of 5G.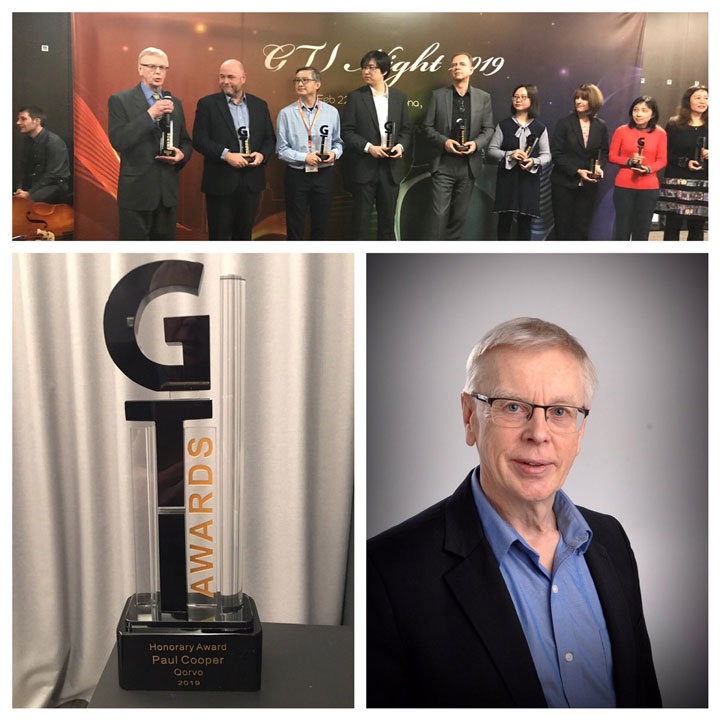 Qorvo's Paul Cooper and a cross-company collaborative team accept a GTI Honorary Award at MWC19

Getting ready for 5G: Antenna tuning is essential
The transition to 5G will drive a significant increase in the typical number of antennas in each handset, from 4-6 in today's LTE handsets to 6-10 in 5G smartphones. At the same time, the space for those antennas is decreasing, creating problems for antenna efficiency and bandwidth.
To counteract these challenges, 5G handset designers will need to use antenna tuning to optimize the antenna. Aperture tuning is one method used today, but implementing it requires in-depth knowledge.
We released a new e-guide for MWC, How to Implement Aperture Tuning: Best Practices for 4G/5G Smartphones, to help 5G smartphone designers learn more.

What's next: How do we make 5G happen right now?
Eric Creviston, president of Qorvo Mobile Products, sums it up best: "We heard over and over during MWC that 5G handsets are being pulled in sooner than planned. Consumer awareness of 5G is very high and consumers want to 'future-proof' the phones they buy this year by having 5G capability, even if the network coverage is not yet in place."
To that end, one of the questions we discussed most with our customers at MWC this year centered around one topic: How do we make 5G happen right now?
We may be in the earliest stages of the 5G rollout, but it's exciting to see all the hard work and collaboration from the 3GPP standards bodies and the industry starting to come to fruition!

Are You Ready for 5G?

Learn what to expect with 5G, in our series of "5G in :60" videos.
Watch the Videos >