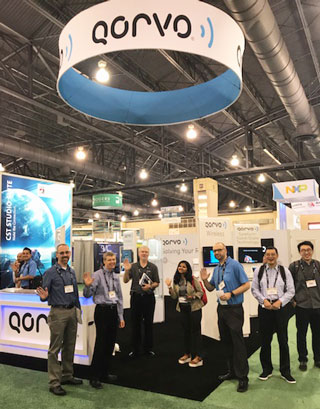 Qorvo presented the latest in RF innovation at IMS 2018.

The International Microwave Symposium (IMS) continues to be one of the largest and most important events for the RF, microwave and millimeter wave (mmWave) industry — connecting everyone who cares about RF with the latest topics, technologies, trends and new products.
Qorvo's Brent Dietz already shared his take on the highlights from IMS 2018, which was held in Philadelphia, Pennsylvania. Read on for the latest in product advancements that Qorvo announced at IMS.

New Qorvo product releases for GaN and 5G
What's exciting about GaN is that it isn't an emerging technology anymore — it's arrived and we're seeing a breadth of defense and commercial implementations using it. Attendees got a chance to see it in action at IMS, most notably for deploying 5G and next-gen base stations, as the industry has already started rolling out 5G infrastructure to support the first 5G handsets in 2020.
Qorvo has moved into a pace-setting position, with dozens of customer field trials under our belts, as well as announcing 5G FEMs at 39 GHz and having the broadest product portfolio set.
Qorvo solutions for sub-6 GHz massive MIMO and 5G wireless infrastructure
Qorvo has been at the forefront of new technology for small cell, massive MIMO, 5G and mmWave base stations. The first day of the show, we announced five new amplifiers and switch-LNA modules that will provide more options for customers in our RF portfolio for 5G:
Wideband driver amplifier for sub-6 GHz 5G: QPA9120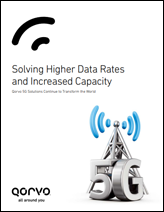 Learn More: Qorvo's 5G Wireless Infrastructure Solutions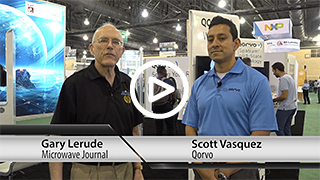 Qorvo's Scott Vasquez introduces our new 5G wireless infrastructure solutions. Watch Video >
GaN X-band FEMs for AESA radar systems
High-power defense solutions are always a highlight of IMS, and our second product announcement highlighted our new offerings for advanced active electronically scanned array (AESA) radar systems.
Our two new ultra-compact, GaN X-band front-end modules (FEMs) — the QPM2637 and QPM1002 — are EAR99 export-compliant and provide four functions in a single compact package, including an RF switch, power amplifier, low noise amplifier and limiter. They can withstand up to 4 W of input power on the receive side without permanent damage — a vast improvement over a typical GaAs LNA, which can be damaged by less than 100 mW of input power.

Learn More: Qorvo's X-Band FEMs for Defense


Qorvo's Dean White discusses our new X-band FEMS for defense with Microwave Journal. Watch Video >

Spotlight on QPD1025L, an L-band 1800 W GaN transistor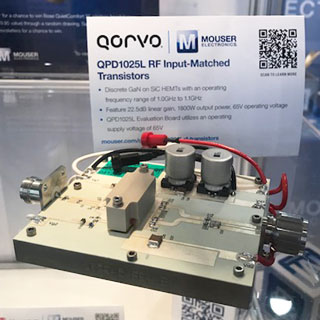 Qorvo's QPD1025L input-matched GaN transistor, featured in the booth of our global channel partner Mouser Electronics.

Another Qorvo product that received a lot of attention at IMS 2018 was the QPD1025L, an 1800 W, dual-channel, discrete GaN-on-SiC HEMT. Featured in the diamond anniversary (60th) edition of Microwave Journal, QPD1025L delivers the outstanding signal integrity and extended reach essential for L-band avionics and Identification Friend or Foe (IFF) applications.
It's also available in an earless NI-1230 package, as QPD1025.

Learn More: QPD1025 / QPD1025L

5G demos with Keysight Technologies and National Instruments
As equipment manufacturers are building out wireless infrastructure to support 5G, they need test equipment to ensure their designs can stand up to commercial deployments. We partnered with two test/measurement companies, Keysight Technologies and National Instruments, to demo what's possible using our 5G FEMs for mobile handsets and base stations.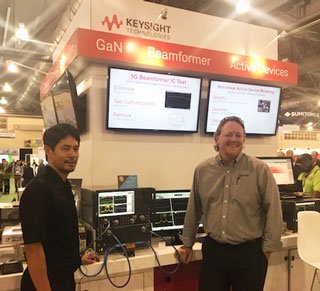 5G beamforming test demo with Keysight Technologies and Qorvo's QPF4006, one of the industry's first GaN FEMs for 39 GHz phased array 5G base stations.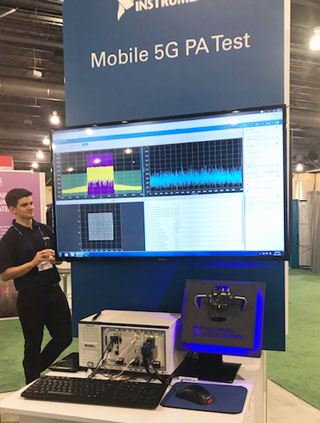 National Instruments' mobile 5G PA test demo using Qorvo's QM19000, a 5G RF FEM for mobile devices.
Read our joint National Instruments news from earlier in 2018 >
What's Next
After years of talking about and planning for 5G, it's exciting to see products and technologies finally becoming a reality. With the releases of the non-standalone (NSA) 5G spec in December and now the standalone (SA) 5G specification a few weeks ago, the work to develop 5G certainly isn't done — but now it's time for infrastructure manufacturers and carriers to bring the vision to life. We can't wait for what's in store for the microwave industry. See you in Boston for IMS 2019!