The International Microwave Symposium (IMS) took place in Boston on June 3-7, 2019. The premiere RF conference gained inspiration from the city's rich history in science, academics and innovation. This year's theme was "The Hub of Microwaves," and much to my surprise, both the microwave oven and the telephone were invented in Boston!
Crowds Converge to See the Latest in 5G
More than 9,000 attendees and as many as 600 companies exhibited technology at IMS. The topics ranged from 5G, millimeter wave and biomedical sensing to new applications for wireless communications, defense systems, test and measurement, medical devices and autonomous driving.
Besides figuring out the best place to get a lobster roll, the hottest topic at IMS was 5G. With standards in place, we are now seeing increasing 5G network deployments. The focus of this year's show was on making improvements to massive MIMO and mobile mmWave systems. There is still much room for improvement in DC power consumption, which in turn drives improvements in size, weight and cost.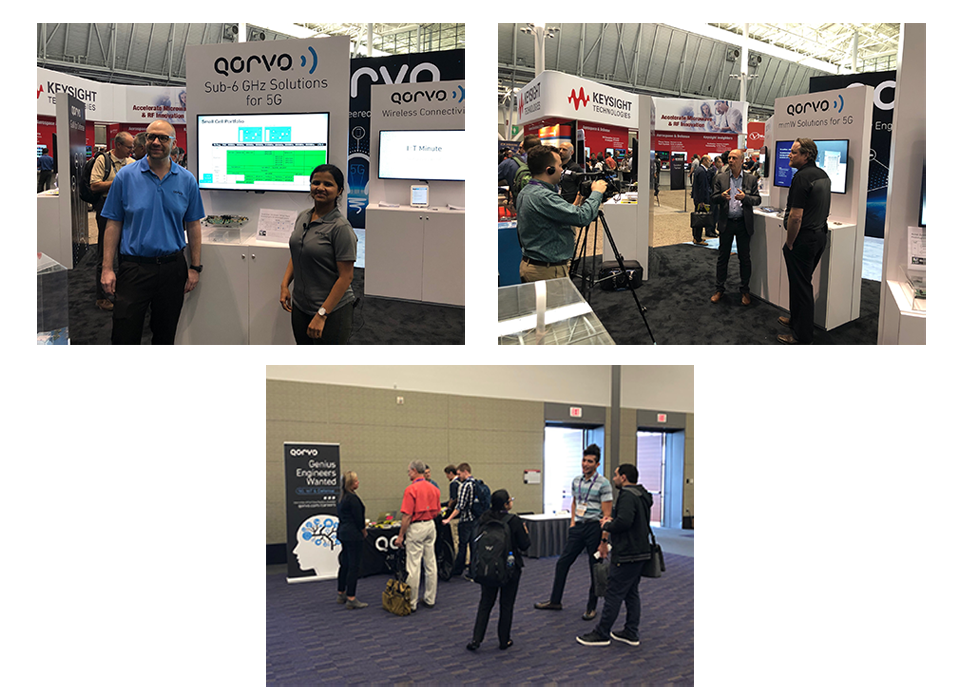 Clockwise from top left: Qorvo's Jeff Gengler and Suma Kapilavai breakdown the small cell front end solutions. Gapwaves' Thomas Emanuelsson and Qorvo's Bror Peterson demonstrate the 5G antenna featuring Qorvo GaN Technology. Qorvo welcomed students at the career fair – offering perspective on what it's like to transition from college to an exciting career in RF.
Paving the Way to 5G
Besides many technical sessions at the event covering 5G, the role of small cells in dense urban settings peaked audience interest. Much of the discussion centered on how wireless network operators can improve capacity by adding spectrum and increasing cell sites. Qorvo introduced new solutions for 5G small cell infrastructure during IMS.
Learn More: Qorvo Small Cell Front-End Solutions

Valuable Opportunities for Future Engineers
MTT and IMS have always encouraged participation and professional growth from engineering students – from design competitions, volunteer opportunities and interactions with practicing engineers. Because Boston enjoys a thriving academic community, IMS sponsored a career fair, providing an excellent opportunity for Qorvo to interact with students who are passionate about RF and to provide guidance about internships and careers.
Learn more about starting your career in RF at Qorvo. Understand what it's like to work at Qorvo and search for jobs on our careers site.
Making Waves in the Media
Here are some coverage highlights Qorvo garnered at IMS:
Download GaN For Dummies®

Learn about the basic technology of GaN and its applications in RF design.